The good people at Nikon have sent me a D500 to review. While it has been in market since the spring, they are very popular and demo units have been scarce. I received it in a kit form that included the 16-80/2.8-4 zoom lens. I also received an SB-5000 speedlight and wireless radio kit as I think that the interaction with a speedlight will be important to serious amateurs and pros.
First Look
At first glance, the D500 looks and feels like a worthy successor to the superb and rather long in the tooth D300S. Nikon aficionados have been clamoring for a replacement for many years. Why call it the D500 instead of the logical D400? No idea. I heard a rumour about some numbers being perceived as unlucky but I can offer no input either way.
The body fits my hand well, and is built on the same style chassis as the D810 with a button block in place of the mode dial found on less expensive Nikons. This is a DX (crop sensor) body, but one designed for the demands of the aggressive shooter. It delivers 20.9 megapixels from the DX sensorIt brings high burst frame rates (up to 10fps), heavy duty construction and all the Nikon bells and whistles expected from this grade of camera and includes support for the new Nikon radio flash system. ISO range is 100-51200 with a Hi top end of 1,640,000.
The lens supplied is kind of akin to the 24-120/4 that I shot with the D5. I will come to a more detailed assessment but for those who are not inclined to read the entire review, I'd suggest considering a body and lens as separate items rather than the bundle. The lens does not live up to some of its peers, or the body it is mounted on, in my opinion.
The D500 is also one of the first cameras to incorporate Nikon's new wireless image transfer and remote control system. Even with the latest firmware on the camera and the latest version of the iOS app, Snapbridge is a trainwreck, nigh unusable. Fortunately, the number of people investing in a D500 are less likely to be wanting to upload their latest bad image of their lunch to Instannoy than the users of a smartphone. I will look into Snapbridge in more detail later on.
The unit I received has two card slots, an XQD (YAY!) and an SD (BOO!). I fully understand the decision and understand the desire to bridge customers into the future, but I really hate having two different card slots in any camera. Just make a dual XQD version and get on with it. With no disrespect intended, if you can afford a D500, you can afford a couple of lightning fast high capacity XQD cards. I've used XQD on the Sony FS7 pro video camera, and on the D4s and the D5 and recommend it 100% over the dated and limited SD card methodology.
The menu system is classic Nikon, great once you know it cold, but with a longer than necessary learning curve and odd placement of seemingly related items in very different sections. Nikon would benefit from hiring some serious UI designers. Don't get me wrong, it's usable, and far superior to many other menu systems, nothing like the exercise in insanity that is a Sony menu structure, but it could be better.
The battery is a standard Nikon EN-EL15. It arrived dead as do most demos, and took about two hours to bring to full load. It gets a bit warm in the charger but no concerns there. Like other Nikon DSLRs, the battery installs via a hatch in the base plate. It is off to the side, so will not interfere with any well designed tripod mount plate or L plate. There is an accessory battery grip available as well, the MB-D17, and if I were buying a D500 I would definitely add it. Not because there is anything wrong with the layout of the D500, I just prefer battery grips on my full size cameras. If you don't, no worries.
The buttons and dials fall nicely to hand. There is plenty of graspable space, and I have not yet encountered any situation where my standard grip inadvertently hits anything. As you'll see from the images, the D500 is not cluttered with a zillion extra, programmable buttons. Some love these devices, I find them to be a major pain in the butt because they get hit by accident and weird stuff happens. A simple design means I can control the camera without taking it away from my eye. I was comfortable shooting without looking at the controls in less than an hour.
Many of the buttons are programmable of course. After bringing the firmware up to date, I went into the menus to make my standard default settings. The one I missed, just as I did on the D5, was that the Bracket button defaults to bracketing white balance. I, like most photographers, think exposure bracketing when the bracketing word is tossed around. White balance bracketing is a stupid default. I've heard from enough new users of the D500 already about how their camera was broken because the bracketing button doesn't work. There's no simple and obvious indication of the bracketing mode without going into the custom controls and that's just lousy. Actually, I find most of the information on the top deck LCD hard to read without reading glasses. This may be a case of trying to put too much information in too small a space. But, if they made things larger and had fewer items, that would likely annoy a different customer segment. So they cannot win, and since they cannot win, they should do it my way. Kidding! Sort of…
I shot my first "roll" in RAW with a Neutral Picture Style. Smart folks know that when you shoot in RAW the Picture Style only has impact on the JPEG preview. New users and sellers are going to want to choose a different option, because the D500 neutral is the best representation of unaltered RAW that I have ever seen, meaning it is truly flat and wins the ugly beast award. Remember, that's not the real image, and when I imported the files into Lightroom, they looked crappy at the outset because nothing had been done to them at all, as it should be. In under a minute of standard workflow, they looked awesome.
Awesome comes a lot from incredible dynamic range. I chose a bright and sunny fall day for my first shoot and did it in a wooded area with lots of harsh shadows, ugly lighting and boring skies. The dynamic range of the D500 sensor is superb and you can pull a lot of detail out of shadows and highlights with basic processing workflow without turning the image into halo and noise city. Shooting using an ETTR methodology for a second set gave me incredible capacity to manage the dynamic range and really get a terrific zone system representation without having to go to Photoshop and masking strategies at all.
The D500, like the D5, has incredible high ISO capability, and like the D5 some of those numbers are really mcmarketing foo-foo dust. That said, the D500 has the lowest noise floor of any crop sensor camera I have tried. Rumour has it that the sensor comes from Sony, which would be awesome because Sony does great sensors, but the CPUs and the code comes from Nikon and they do a better job in this regard. I've put together the standard ISO gallery that you will find further on. I could comfortably shoot the D500 at ISO 12800 when I am doing my job without concerns and push it harder in bad situations with minor tweaking.
Camera Details
As noted earlier this DX sensor delivers 20.9 megapixels when using all the sensor. There is a further 1.3x in camera crop, and when you shoot in 4K video, less of the sensor is used for a 1.5x crop. This makes the maximum native print size at 300 pixels per inch about 12.3 by 18.5 inches, a very respectable native size for a crop sensor camera.
Shutter speeds range from 1/8000 down to 30s plus bulb. There is also an electronic front curtain shutter for shooting in mirror up mode.
Viewfinder magnification is 1x, as it should be in a camera of this market placement. The diopter delivers a range from -2 to +1 before you need corrective lenses or a corrective eyepiece. Unlike the D5 this is not a locking diopter. It's a small thing, but I wish that it was. There is, as there should be, a viewfinder blind available on the rear of the pentaprism so the meter doesn't get fooled by light entering through the eyepiece when the camera is on a tripod and nothing is blocking the eyepiece. This is a big deal for landscape and time lapse photographers and more than one has ended up with odd images because the meter gets thrown off when the eyepiece is not blocked. It's also easier than keeping a piece of gaffer tape stuck to the body for when you will need it.
When you need to get your gun on, continuous high fires at 10 frames per second. Continuous low defaults to 4 frames per second, but is user configurable. Quiet continuous is limited to 3fps and in my opinion is neither all that quiet nor all that continuous.
The built in through the lens exposure meter has a very wide range from -3 EV to 20 EV and uses 180,000 distinct metering pixels. Multiple metering patterns are available with the widest response range in the matrixed metering setting.
Exposure modes are the expected PASM, with exposure compensation of +-5 stops available in all modes in steps of 1/3, 1/2 or 1 stop. Note that compensation works in manual mode as well. Not all cameras take the same approach so watch your display when shooting in manual.
The camera shoots in 14 bit RAW, with your choice of no compression, loss-less compression or lossy compression. Seriously, if you can afford a D500, you can afford a larger memory card. There is no place in today's world for lossy RAW. If space and the desire not to post process is your requirement the camera offers multiple levels of JPEG compression along with numerous predefined picture styles that apply certain processing settings to the JPEGs. As I don't shoot in JPEG, I will not mislead anyone by saying I tested any of the JPEG stuff. The RAWs are in Nikon's proprietary NEF format and are terrific but definitely need some post processing, just like any decent RAW.
Bracketing is available across two to five stops in 2 EV and 3EV increments and from two to nine stops in 1/3 EV, 1/2 EV, 2/3 EV and 1EV increments. Be cautious to read the manual because there are custom brackets indicated as +2 and +3 that behave in a special fashion. If you want standard bracketing make sure no plus sign is evident. Bracketing may be combined with exposure compensation to adjust your zero point.
Focus is controlled by Nikon's AutoCam 20K focus system. There are a total of 153 AF points, 99 of which are cross-type and 15 of which will work when the maximum aperture is only f/8. There are the master modes of AF-S (single shot) and AF-C (continuous focus) AF-S works in single point, group and auto area. AF-C works in dynamic 25, 72 and 153 point settings. 3D Tracking is also available. Autofocus has incredible range from -4EV to 20EV. It really does see in the dark.
Flash sync speed is 1/250 and both rear curtain sync and high speed sync are supported with select Nikon speedlights. As found in other higher end Nikons, there is no popup flash. The camera supports the new AWL (Advanced Wireless Lighting) protocols that have expanded on the previous CLS Creative Lighting System. Flash exposure compensation is settable in camera as well as on Nikon speedlights. By default the flash exposure compensation is ties to the ambient exposure compensation. I can understand why one might want this, but decoupling the two is one of my first settings changes that I make after switching to shooting in RAW only. Flash bracketing is also available with the same capacity as ambient light bracketing.
The D500 shoots video at up to 4K UHD at up to 30fps. It can record a maximum length of 29:59 but you are likely to run out of card space before you get there unless you buy a humungous XQD card. The camera can record 4K UHD to either card so something is happening internally with bandwidth compression as SD cards cannot handle the full bandwidth demands of native 4K. Compression selects are either H.264 or MPEG-4. There is no options for LOG format or for uncompressed video. The HDMI port will stream clean 4K off the sensor to an external recorder, but remember that the sensor has a crop factor of 1.5x applied when shooting in 4K. Good enough for B roll to be sure but not optimal. The camera also shoots in FullHD at up to 60fps and in HD at 60fps. There is a built in microphone that delivers audio in about the quality that you would expect from a built-in microphone, as well as a headphone jack for monitoring audio. There is also a stereo 3.5mm microphone input for use with an external microphone. Without trying to offend, the internal mics are awful (just like all internal mics from all vendors), so go with an external if you want to record vaguely decent audio with your video and do both in camera.
The LCD is a 3.2" diagonal design that can be flipped up or partially down. There is no flipout mode (sorry selfie egotists) and the display has 2.4M dots providing a nice clear image with excellent rendition when zoomed in. The LCD is touch sensitive in an intelligently limited manner, good for playback but not available for menu selections.
The D500 has HDMI out via an HDMI mini connector, and incorporates the 10pin locking connector for accessories like the WR-R10 wireless flash controller amongst others. The USB connection is USB 3, as it should be at this point in time eschewing the slow and clanking USB 2 completely. The camera has built in WiFi and built-in Bluetooth, but both are pretty much bound to Snapbridge.
The EN-EL15 battery is rated for 1240 exposures by CIPA standards and the camera also includes the MH-25A charger. Camera body weight is 760 grams or about 1.6 pounds
The Shooting Experience
Snapbridge - Not Ready for PrimeTime
After updating the firmware, one of my usual first steps with demos, I wanted to try this all so exciting Snapbridge connectivity. I've probably paired over one hundred devices using Bluetooth in my life. Nikon has determined that people need a special piece of software to do Bluetooth pairing and it is the dumbest and most ineffective thing that I have ever seen. Once I finally got the camera and my not so aging iPhone 6+ to connect, I was able to do basic remote control of the camera, which I should have been able to do much faster than the 30 minutes it took just to make the pairing work. Bluetooth, as we know is limited range and has limited bandwidth, so as soon as I wanted to see an image that was shot or goodness forbid transfer an image to my phone, I was strongly "encouraged" to enable a WiFi connection. You have to have the Bluetooth connection set up to make a WiFi connection work, and the awesome (NOT!) software drops the WiFi connection with every change that you make. After over an hour of fiddling, when I was finally able to get both Bluetooth and WiFi connected, I was never able to get a single image to move to my phone. My experiences echo those of everyone I know who has actually tried Snapbridge. Fortunately, I don't need Snapbridge, as I have a drawer full of long range capable, fully functional wireless remotes, as well as an Alpine Labs Pulse that does speak Bluetooth and speaks it correctly the first time and comes with an app that is actually usable.
I put the camera down for a couple of hours to let my blood pressure settle and starting using the D500 the way it was designed to be used. As mentioned in the first look, it fits the hands perfectly with an excellent control layout. I had activated back button focus and disabled focus on the shutter button as I always do and found the camera very fast to lock on and it had no delay in shutter release. Image quality was excellent in some early tests on flying birds and the continuous autofocus was very good. The DX crop factor is 1.5x so the 75-300 zoom sent along (the new P series - more on that later) was effectively a lightweight 450mm. Even before getting out to shoot some sports, I can tell you that the D500 is going to be killer for sports and wildlife shooters who need more reach from their glass.
I really liked the SB-5000 when I shot it with the D5 so I connected up the remote wireless controller and took the camera and flash for a walk in the woods on a day that I mentioned was delivering bright sun and nasty shadows. The combination works absolutely brilliantly, once I relearned how to use them together. (Aww the horrible pain of shooting so many different products :) ) Nikon's AWL is the natural evolution of CLS and it just works brilliantly. In my review of the SB-5000 you can learn more about the speedlight so I won't deep dive into it here. Suffice to say, that as a photographer who always has a flash in the bag, I would be sure to add an SB-5000 and radio kit to a purchase of a D500. Fill flash was so simple, being able to control everything from the camera is a treat and the radio connectivity eliminates the one serious challenge of CLS, being line of sight and limited range.
I was surprised to see the battery draining quickly while I was out. It was down to 3/4 power in no time at all, despite having been charged before I went out. There was no way I would hit 500 shots let alone the over 1200 according to CIPA. What could it be? It was that darn Bluetooth and WiFi setup for Snapbridge. You see, once you turn it on, it stays on all the time, ostensibly to maintain a consistent contact with your smartphone to suck GPS info from it in real time and of course allow transfer of images for immediate uploading, albeit in my case, no transfer at all. I turned the Bluetooth and WiFi off and was able to make about 300 images without any more movement on the battery gauge. I won't kid you that they were killer images. Many were playing around in continuous focus in high speed burst chasing a willing bird. Nothing to write home about from an image perspective but a strong indicator that the camera holds up under constant use.
I only used a Lexar XQD card in my testing, I confess that I never even considered using an SD card because the performance of XQD is just so superior.
For many of the first "roll" I used the supplied 16-80 DX Nikkor lens. Something just didn't feel right and when I looked at the uncorrected images in Lightroom, I could see beaucoup barrel distortion at 16mm along with some fairly aggressive vignetting. The lens is better at the 80mm end and is decently sharp but at a unit cost of over $1200 here in Canada, it should be delivering much better image quality. It does have Nikon's NANO coating for durability and has a decent rectangular shaped lens hood included, but I'm not inclined to recommend it. I'd be much more inclined to go with FX glass on this high end body and get the superior IQ, even if it meant having to carry multiple lenses for wide shots. Many folks will only have one camera body, so this means doing some research before choosing. A later update of Lightroom improved the overall image correction of the D500 with the 16-80 to match Capture One 10.
I also shot the supplied AF-P DX Nikkor 70-300 G-ED VR which is an f/4.5-6.3 lens. This lens is designed as a complement to an 18-55 kit lens and delivers quite decent performance. The P series use pulse (stepping) motors for near silent autofocus. Sharpness was good, distortions were minimal and vignetting wasn't a big issue. The non-VR lens lists for $449.99 and is certainly not what I would choose to go with a D500, but maybe might be a good choice as a companion lens with a D3400. When Nikon announced the P series of lenses, they built versions with and without VR. The VR capable version of this lens lists at $529.99 and in my opinion, regardless of your use cases, if this focal length range works for you, spend the $75 and get VR. I honestly cannot figure out why Nikon would go to the trouble to even make non-VR telephoto lenses in this day and age other than to hit a price point. At 450mm effective focal length on a crop sensor, EVERYBODY benefits from VR. Nice enough glass to be sure, but I do not recommend the non-VR version for anyone. That said, the one I got was the VR version, but oddly there is no on/off switch for Vibration Reduction. It's on. All the time. In one mode. Weird, and not what I would expect from Nikon. Feels cheapo. The lens mount is made of plastic. Nikon is not the only manufacturer to use plastic in their low end lens mounts. I have seen so many Nikon low end lenses with the mount ears cracked or snapped off, I personally would advise a buyer to never buy any lens from anyone with a plastic mount.
The Second "Roll"
For my second big shoot, I decided to put the 70-300 to the test of a hockey game in a poorly lit arena. I set the camera to Av, and the widest aperture and also chose Auto ISO with a target of ISO 400 and a ceiling of 25,600. I also set the minimum shutter speed to AUTO in the Auto ISO settings to see what the camera would do with a slow lens in really crappy light.
The first thing that I noticed was that the diopter setting had moved, even though the knob had not been extended. I like that Nikon features a locking diopter knob so this struck me as odd. After my first roll experience with the flat and ugly Neutral Picture Style, I set this roll to use Standard. As I was shooting RAW, it really makes no difference but the images on the LCD were much less nausea inducing.
As I was shooting hockey, I set the exposure compensation initially to +1, but in short order still felt the images were too dark and moved the compensation to +1 1/3. This gave me a better histogram without any clipping. I had turned the LCD brightness down on the first roll and while initially I thought that the LCD images were too dark, on quick inspection, I found that they were actually quite decent, although I should have gone +2 on the exposure compensation I think.
I shot in AF-C with a balanced release protocol. I made a couple of mistakes in my settings however. I should have been more explicit about the minimum shutter speed as when I was racked out to 300mm, the Auto ISO allowed the shutter speed to dip to the point where I was getting motion blur. It followed its program, the fault here was mine. I also used the 3D tracking mode of autofocus rather than my usual tight group option. I am very used to the Canon CASE system and hoped that 3D tracking would handle the kind of quick action and subjects crossing each other that is normal in hockey. Sometimes it worked, other times the focus point was dancing all over the display often onto the ice where there were no players. It worked ok, but I wouldn't use it in a client situation without a lot more practice and confidence.
Instead of using Lightroom first for this roll, I decided to give the RAW converter from CaptureONE 10 a shot. I have found in the past that I prefer the CaptureONE conversion to the Adobe conversion on some Nikon cameras, and definitely on Sony cameras. Folks bitch and kvetch about how slow the import on Lightroom is. I have to be fair to PhaseONE as I bought the upgrade to CaptureONE 10 on the first day it released, but let me say that the import of 516 images would in no way make anyone think of fast to describe it. Once the import was done, performance changes and I will say that I was very impressed with the speed from then on. I liked the look of the RAW conversion and am thrilled with the noise control in the D500. It's really very very good despite having been given a lot of latitude in the poor light in the arena. One might guess that 20MP on a crop sensor would not deliver really awesome high ISO results. Compared to Canon's 7D Mark II, the D500 is much better. I own the 7D2 and admit I have never felt it lived up to the marketing. The D500 is what the 7D2 should have been.
To be fair, I also imported the same RAW images into Lightroom. The latest version is quicker than in the past, and despite my being less expert with CaptureONE 10, I still found the Lightroom Import process slower. I was importing from a NAS volume in both cases, so I think that the import comparison is fair.
The ISO Test
As I typically do, I asked my friendly model Sondra if she would mind being part of the ISO test. Like the great magician Teller, she is quite silent, but unlike Teller she has only one facial expression. I placed her beside a large Datacolor Spyder Checker and oriented it so you could see the photo swatches cleanly to the detriment of the warmth and coolness swatches. The D500 was mounted to a tripod, used the 16-80 lens and the scene was lit with a Profoto D2 strobe firing into a Broncolor Para 170FB. I had to use very small f/stops to get the full ISO range as that Profoto is still pretty powerful even at it's lowest setting. This may account for some diffraction impact on focus. The images were shot in RAW, imported to Lightroom where only the base RAW import sharpening and lens corrections were applied. For the ISO 25600 image, exposure was reduced in post .33EV to address minor overexposure due to hitting the low limit on the D2, and the ISO 51200 image was reduced 1EV for the same reason. Since both images were barely and moderately exposed to the right, by reducing exposure, noise is not added and in fact the images may be better than if the exposure had been perfect straight out of camera.
Camera settings were Manual, 1/200, f/18 until I needed to make the aperture smaller to get the high ISOs to work (EXIF is included in the images) White Balance was set to Flash, AF was set to single point with it dropped on the lower lash of Sondra's left eye. Images in the Gallery were exported from Lightroom as JPEGs with 1440px on the long side and 100% quality.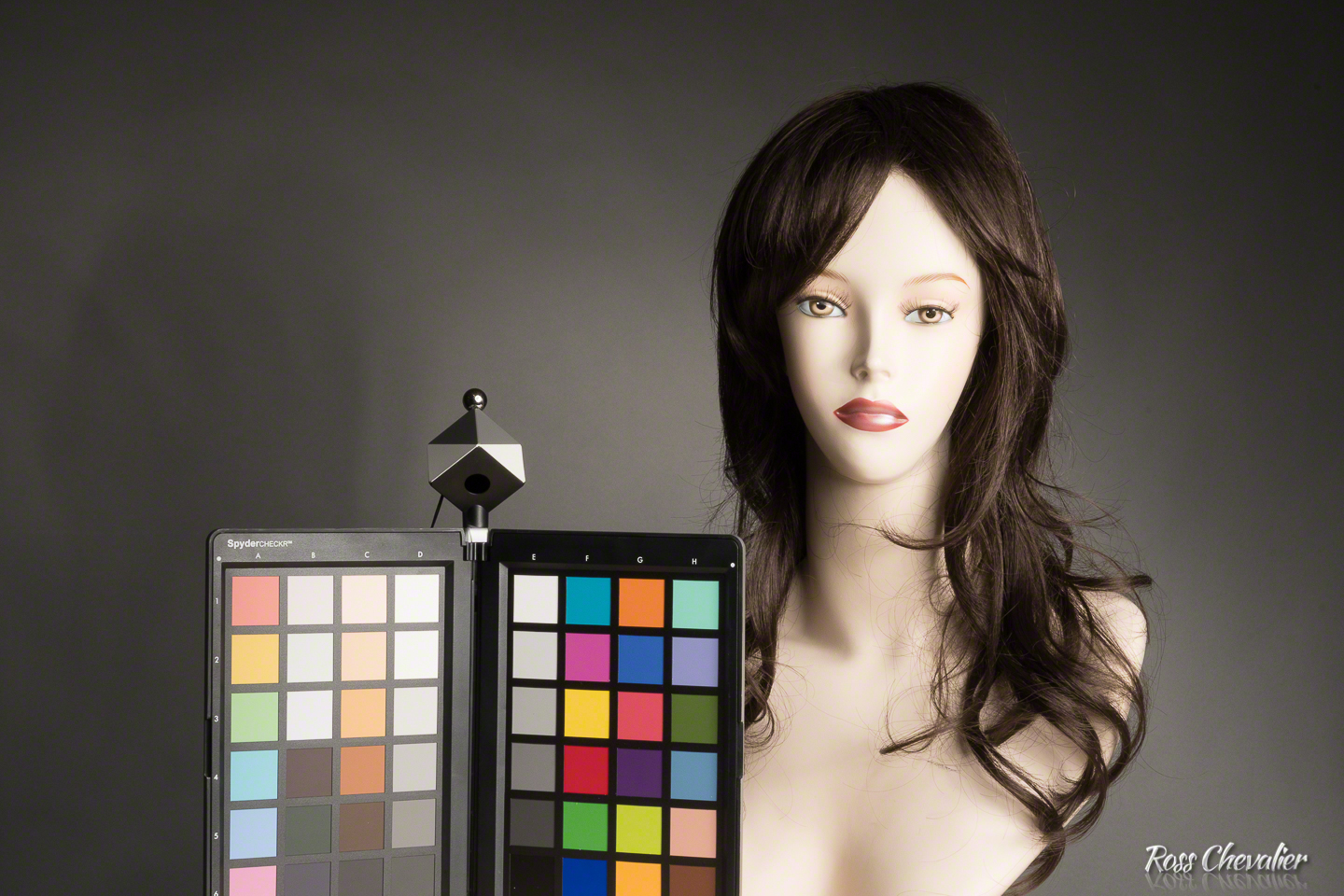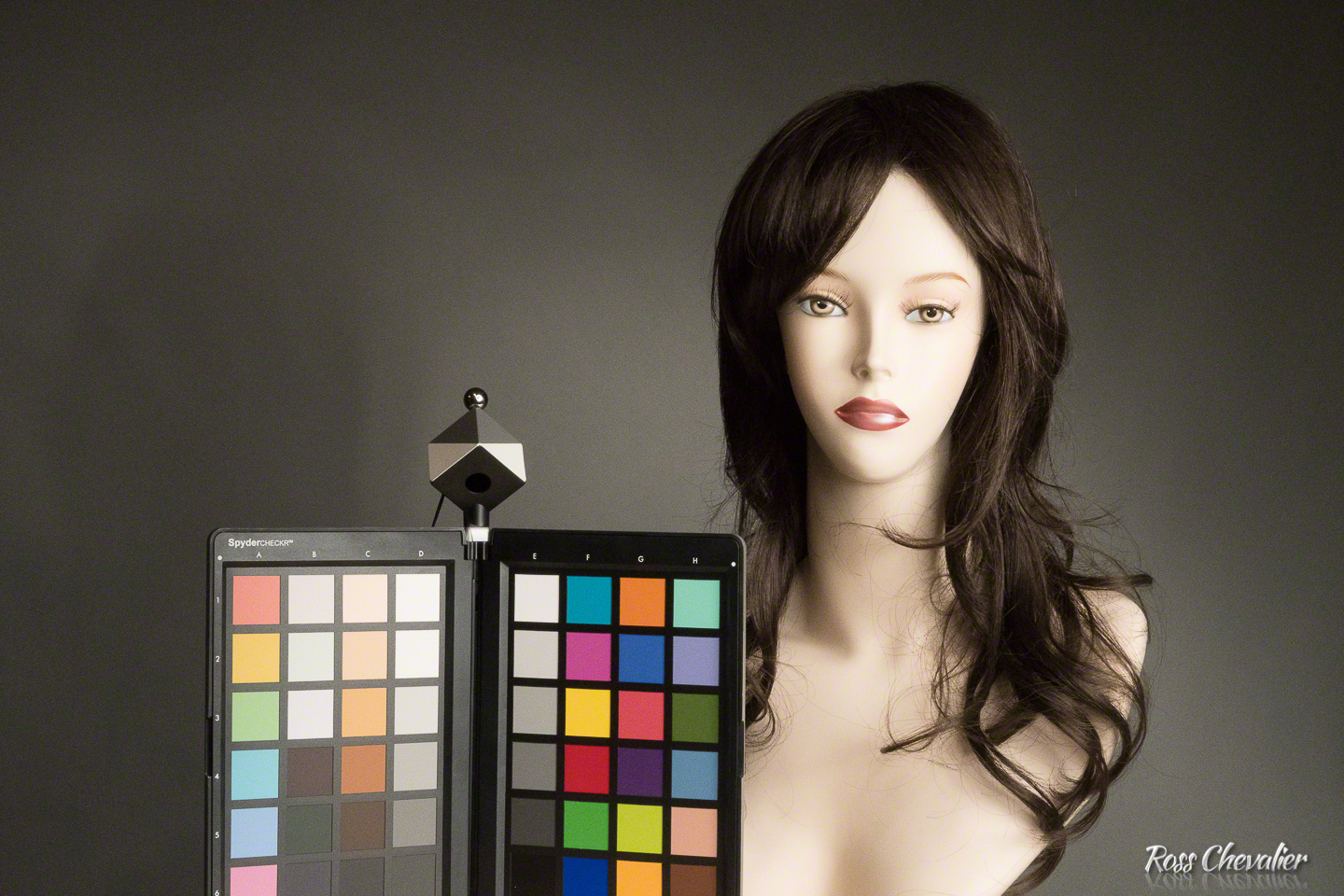 The D500 is excellent at noise management at high ISO, certainly the best performance I have ever seen from a crop sensor camera. It still doesn't compete with the Nikon D5 or the Canon 1Dx I or II, but let's remember that this is a crop factor of 1.5 on a 20MP sensor. I would be quite comfortable shooting this camera at 12800 with good exposures. The 25600 option does start to show the noise, along with increased contrast and a minor colour shift. The top numeric end of 51200 is only for the most must have, image quality doesn't matter use. I did try the Hi settings as well, and much like those on the D5, they make for nice marketing, but not nice images. That said, a crop sensor that is this good at ISO 12800 is an incredible achievement, considering the excellent dynamic range that the camera delivers as well.
I cannot help but believe that the overall image quality would have been better had I been using an FX lens like the 24-70 or 24-120 instead of the 16-80. Since I used the default Lightroom Lens Profile corrections you do not see the significant distortion in the ISO test images.
Video
The truth is out there. All OEMs put video into their DSLRs, but based on customer feedback, next to no one uses it. I would personally prefer that the OEMs put more into making the stills capability richer than putting time and money into functionality that over 95% of buyers never use. It's not that the video quality is bad, it's that you need to spend a fortune to kit a camera up to be usable. Candidly you will spend more on rigs and viewfinders and monitors and audio decks than you would on a dedicated 4K camcorder. While that camcorder will have a smaller sensor, it will also offer faster focus, a wider zoom range and the ability to work without loading the thing with twenty pounds of weight.
Here's a 10 second or so clip shot in 4K. As I couldn't see a darn thing on the LCD, I just let the camera do its thing. I did not kit the camera out at all, preferring to test the same way that the average buyer would. Because of all the snow, the video was underexposed so I used the Lumetri correction in Premiere Pro to fix the exposure, highlights and shadows and to set the HDR capability on for REC2020. Had I not done so, the clip was a black and white blob. The camera was on a neck strap pushed forward by my arms for a bit of stability. It's certainly viewable, with decent detail and contrast.
The 4K video is good. The significant cropping that occurs negates any value proposition of wide angle glass. You cannot see anything on the LCD in LiveView shooting outside, and Nikon does not have Canon's excellent dual pixel AF, so AF when it works is slow and hunts a lot. Planted on sticks in a studio, you could do excellent interviews or videos for the web, so long as you add the proper accessories for audio and the like. I do a lot of video, and cannot really say buy a D500 because of the great video. Buy a D500 because it is an incredible stills camera. It comes with video, but you probably won't ever use it.
Other Observations
We finally got some snow so I took the wolf to the offleash park to let him burn off some enthusiasm by sprinting back and forth. He's quite fast so I shot images of him coming straight at me using the 70-300 on the D500 and on a Nikon Df. Both were great in AF-C, but again I was disappointed with the 3D tracking on the D500. I also had more focus misses on the D500 which I found surprising, considering that both cameras were working in DX mode.
Conclusions
The Nikon D500 is by far the best crop sensor DSLR I have shot to date. The camera fits my hands well, it is extremely fast, and compared to a D610 ripping along beside me at a hockey game, still very quiet even in Continuous High. While the Nikon menu layout continues to leave room for improvement, getting on the shot is quick and precise. This is the camera that Canon's 7D Mark II should have been. I would recommend the use of Nikon's top of line FX glass with the D500 because the sensor deserves the best glass you can put on it. I would love to attache the killer Nikon 24/1.4 for street shooting. When hung with a subtle strap, the D500 is not so bulky and ostentatious to alert everyone around that you are making images.
If I love the camera so much, why not 5 Stars? First is the choice of the kit lens in the bundle. I know that the Nikon engineers are capable of much better glass and as this camera is so great it is hampered by this lens. Of course if you buy it body only and then add a Nikon FX lens that issue vanishes. The other reason is my utter despair at the foray into the abomination called Snapbridge. I fear for Nikon's reputation as users try to use this defective in design, concept and execution train wreck. Thank goodness that the typical buyer of a D500 is unlikely to want to punch unprocessed images to their smartphone in low quality for uploading to social media. Those buyers are far more likely to want to work on their images and upload them to a more useful and higher quality gallery site. I'm not alone here. Every single person that I have spoken with who has tried Snapbridge has been more than willing to share their vituperation and hatred. I've even found hacks to use the old WMU app with the D500 to avoid Snapbridge completely. Nikon makes great cameras, please for the love of your reputation and long term success, stop with the crappy software experiments. Of course, no D500 buyer is forced to use Snapbridge. Were I to add a D500 to my kit, I would never even turn it on. As noted earlier, once on, it's on and eats battery like a freaking Pacman on meth. The emphasis on Snapbridge as a viable tool cost the D500 the fifth star.
Would I buy a D500? If I were shooting Nikons professionally at this time, absolutely. I have in the past, and probably will again at some point. Even though I no longer have any Nikon glass, I am thinking of a D500 with a 24/1.4 with some serious consideration. It is absolutely the best crop sensor DSLR that I have ever shot when it comes to capability and image quality. Yup, that's my opinion, and you are welcome to disagree. I loved it.
Specifications (courtesy Nikon Canada)
Type




Single-lens reflex digital camera

Lens Mount




Nikon F bayonet mount

Picture Angle




Nikon DX format

Effective Pixels (Megapixels)




20.9 million

Sensor Size




23.5 mm







x 15.7 mm

Image Sensor Format




DX

Image Sensor Type




CMOS

Total Pixels




21.56 million

Dust-reduction system


Image sensor cleaning
Image Dust Off reference data (optional Capture NX-D software required)

Dust-Off Reference Photo




Yes

Image Area (pixels)


DX-format
(L) 5,568 x 3,712
(M) 4,176 x 2,784
(S) 2,784 x 1,856
1.3x Crop Mode
(L) 4,272 x 2,848
(M) 3,200 x 2,136
(S) 2,128 x 1,424
Photographs taken during movie recording at a frame size of 3,840 x 2,160: 3,840 x 2,160
Photographs with image area of DX taken during movie recording:
(L) 5,568 x 3,128
(M) 4,176 x 2,344
(S) 2,784 x 1,560
Photographs with image area of 1.3x taken during movie recording:
(L) 4,272 x 2,400
(M) 3,200 x 1,800
(S) 2,128 x 1,192

File Format Still Images


JPEG: JPEG-Baseline compliant with fine (approx 1:4), normal (approx 1:8), or basic (approx 1:16) compression
NEF (RAW) + JPEG: Single photograph recorded in both NEF (RAW) and JPEG formats
NEF (RAW): 12 or 14 bit, lossless compressed, compressed, or uncompressed; large, medium, and small available (medium and small images are recorded at a bit depth of 12 bits using lossless compression)
TIFF (RGB)

Storage Media


SD
SDHC
SDXC
XQD Type Memory

Card Slot




Either card can be used for primary or backup storage or for separate storage of NEF (RAW) and JPEG images; pictures can be copied between cards.

File System


Compliant with DCF (Design Rule for Camera File System) 2.0
EXIF 2.3 (Exchangeable Image File Format for Digital Still Cameras
PictBridge

Viewfinder




Eye-level pentaprism single-lens reflex viewfinder

Viewfinder Frame Coverage


DX (24x16): 100% Horizontal and 100% Vertical Approx.
1.3x (18x12): 98% Horizontal and 98% Vertical Approx.

Viewfinder Magnification




1.0x (50 mm f/1.4 lens at infinity, –1.0 m–1) Approx.

Viewfinder Eyepoint




16mm (-1.0 m¯¹)

Viewfinder Diopter Adjustment




-2.0 to +1.0m¯¹

Focusing Screen




Type B BriteView Clear Matte Mark II with AF area brackets (grid lines can be displayed)

Reflex Mirror




Quick-return type

Mirror Lock Up




Yes

Lens Aperture


Instant-return type
electronically controlled

Depth-of-field Control




Pressing Pv button stops lens aperture down to value selected by user (A and M modes) or by camera (other modes)

Lens Compatibility at a Glance***


AF-S or AF lenses fully compatible
Metering with AI lenses (exposure modes A and M only)

Compatible Lenses


AF NIKKOR lenses, including type G, E, and D lenses (some restrictions apply to PC lenses) and DX lenses, AI-P NIKKOR lenses, and non-CPU AI lenses (exposure modes A and M only).
Electronic rangefinder can be used with lenses that have a maximum aperture of f/5.6 or faster (the electronic rangefinder supports 15 focus points with lenses that have a maximum aperture of f/8 or faster, of which 9 points are available for selection).
IX NIKKOR lenses, lenses for the F3AF, and non-AI lenses cannot be used.

Shutter Type


Electronically controlled vertical-travel focal-plane mechanical shutter
Electronic front-curtain shutter available in mirror up release mode

Shutter Speed




1/8000 to 30 sec. in steps of 1/3, 1/2, or 1 EV, Bulb, Time, X250

Fastest Shutter Speed




1/8000 sec.

Slowest Shutter Speed




30 sec.

Flash Sync Speed


Up to 1/250 sec.
Synchronizes with shutter at 1/250s or slower

Bulb Shutter Setting




Yes

Shutter Release Modes


Continuous low-speed [CL] mode
Continuous high-speed [CH] mode
Mirror-up [Mup] mode
Quiet Shutter Release
Quiet Continuous Release
Self-timer mode
Single-frame [S] mode

Frame Advance Rate




Up to 10 fps (manual focus, mode M or S, shutter speed 1/250 sec or faster, and other settings at default values)

Continuous Shooting Options


DX-format
CH: Up to 10 frames per second
CL: Up to 1-9 frames per second

Quiet Continuous Mode: Up to 3 frames per second

Top Continuous Shooting Speed at full resolution




10 frames per second

Self-timer




2, 5, 10, 20 sec.; 1 to 9 exposures at intervals of 0.5, 1, 2, or 3 sec.


Timer duration electronically controlled

Exposure Metering System




TTL exposure metering using approximately 180K (180,000) pixels RGB sensor

Metering Method


Center-weighted: Weight of 75% given to 8 mm circle in center of frame. Diameter of circle can be changed to 6, 10, or 13 mm, or weighting can be based on average of entire frame (non-CPU lenses use 8-mm circle)
Matrix: 3D Colour Matrix Metering III (type G, E, and D lenses); Colour Matrix Metering III (other CPU lenses); Colour Matrix Metering available with non-CPU lenses if user provides lens data
Spot: Meters 3.5mm circle (about 2.5% of frame) centered on selected focus point
Highlight-weighted: Available with type G, E, and D lenses; equivalent to center-weighted when non-CPU lens is used

Metering Range


-3 ± 20 EV (Matrix or center-weighted metering)
0 to 20 EV (Highlight-weighted metering)

Exposure Meter Coupling


CPU
AI

Exposure Modes


Aperture-Priority (A)
Manual (M)
Programmed auto with flexible program (P)
Shutter-Priority (S)

Exposure Compensation




±5 EV in increments of 1/3, 1/2 or 1 EV

Exposure Bracketing


2 to 5 frames in steps of 2 or 3 EV
2 to 9 frames in steps of 1/3, 1/2, 2/3 or 1 EV

Exposure Lock




Luminosity locked at detected value with AE-L/AF-L button

Picture Control


Flat
Landscape
Monochrome
Neutral
Portrait
Standard
User-customizable Settings
Vivid

ISO Sensitivity




ISO 100 -





51,200
Can also be set to approx. 0.3, 0.5, 0.7, or 1 EV (ISO 50 equivalent) below ISO 100 or to approx. 0.3, 0.5, 0.7, 1, 2, 3, 4, or 5 EV (ISO 1,640,000 equivalent) above ISO 51,200; auto ISO sensitivity control available

Lowest Standard ISO Sensitivity




100

Highest Standard ISO Sensitivity




51,200

Lowest Expanded ISO Sensitivity




Lo-1 (ISO 50 equivalent)

Highest Expanded ISO Sensitivity




Hi-5 (ISO 1,640,000 equivalent)

Expanded ISO Sensitivity Options


Lo-1 (ISO 50 equivalent)
Hi-1 (ISO 102,400 equivalent)
Hi-2 (ISO 204,800 equivalent)
Hi-3 (ISO 409,600 equivalent)
Hi-4 (ISO 892,200 equivalent)
Hi-5 (ISO 1,640,000 equivalent)

Long Exposure Noise Reduction




Yes

High ISO Noise Reduction


Low
Normal
High
Off

Active D-Lighting


Auto
Extra High
Normal
Low
Off

D-Lighting Bracketing


2 frames using selected value for one frame
3–5 frames using preset values for all frames

Single-point AF Mode




Yes

Dynamic AF Mode




Number of AF points: 25, 72 and 153 (3D-tracking)

Auto-area AF Mode




Yes

Autofocus System




Nikon Advanced Multi-CAM 20K autofocus sensor module with TTL phase detection and fine-tuning, and 153 focus points (including 99 cross-type sensors and 15 sensors that support f/8), of which 55 (35 cross-type sensors and 9 f/8 sensors) are available for selection

Detection Range




-4 to +20 EV (ISO 100, 68°F/20°C)

Lens Servo


Autofocus (AF): Single-servo AF (AF-S); continuous-servo AF (AF-C); predictive focus tracking activated automatically according to subject status
Manual focus (MF): Electronic rangefinder can be used

AF-area Mode


25, 72, or 153 point Dynamic-area AF
Auto-area AF
Single-point AF
3D-tracking
Group-area AF

Focus Lock




Focus can be locked by pressing shutter-release button halfway (single-servo AF) or by pressing the centre of the sub-selector

Focus Modes


Continuous-servo (AF-C)
Face-Priority AF available in Live View only and D-Movie only
Full-time Servo (AF-F) available in Live View only
Manual (M) with electronic rangefinder
Normal area
Single-servo AF (AF-S)
Wide area

Maximum Autofocus Areas/Points




153

Autofocus Sensitivity




-4 to +20 EV (ISO 100, 20°C/68°F)

Autofocus Fine Tune




Yes

Flash Bracketing


2 to 5 frames in steps of 2 or 3 EV
2 to 9 frames in steps of 1/3, 1/2, 2/3 or 1 EV

X-Sync Speed




1/250

Top FP High Speed Sync




Up to 1/8000

Flash Control




TTL: i-TTL flash control using RGB sensor with approximately 180K (180,000) pixels; i-TTL balanced fill-flash for digital SLR is used with matrix, center- weighted, and highlight-weighted metering, standard i-TTL fill-flash for digital SLR with spot metering

Flash Sync Modes


Auto FP High-Speed Sync supported
Front-curtain sync (normal)
Rear-curtain sync
Red-Eye reduction
Red-Eye reduction with slow sync
Slow rear-curtain sync
Slow sync

Flash Compensation




-3 to +1 EV in increments of 1/3, 1/2 or 1 EV

Flash-ready Indicator




Lights when optional flash unit such as SB-5000, SB-910, SB-900, SB-700, SB-400, SB-300 or SB-R200 is fully charged

Accessory Shoe




Yes

Nikon Creative Lighting System (CLS)




CLS Supported

Flash Sync Terminal




Yes

White Balance


Auto (3 types)
Choose colour temperature (2500K–10000K)
Cloudy
Direct Sunlight
Flash
Fluorescent (7 types)
Incandescent
Preset manual (up to 6 values can be stored, spot white balance measurement available during live view)

White Balance Bracketing




2 to 9 exposures in increments of 1, 2 or 3 EV

Live View Shooting


Photography Live View Mode
Movie Live View Mode

Live View Lens servo


Autofocus (AF): Single-servo AF (AF-S); full-time-servo AF (AF-F)
Manual focus (MF)

Live View AF-area mode


Face-priority AF
Wide-area AF
Normal-area AF
Subject-tracking AF

Live View Autofocus




Contrast-detect AF anywhere in frame (camera selects focus point automatically when face-priority AF or subject-tracking AF is selected)

Movie Metering




TTL exposure metering using main image sensor

Movie Maximum recording time




4K UHD up to 29:59 min; 1,080 60/50/30/25/24p up to 29:59 min; 720 60/50p up to 29:59 minutes

Movie File Format




MOV

Movie Video Compression




H.264/MPEG-4 Advanced Video Coding

Movie Audio recording format




Linear PCM

Movie


4K UHD 3,840x2,160 / 30 fps
4K UHD 3,840x2,160 / 25 fps
4K UHD 3,840x2,160 / 24 fps
Full HD 1,920x1,080 / 60 fps
Full HD 1,920x1,080 / 50 fps
Full HD 1,920x1,080 / 30 fps
Full HD 1,920x1,080 / 25 fps
Full HD 1,920x1,080 / 24 fps
HD 1,280x720 / 60 fps
HD 1,280x720 / 50 fps
Actual frame rates for 60p, 50p, 30p, 25p, and 24p are 59.94, 50, 29.97, 25, and 23.976 fps respectively
High quality available at all frame sizes, normal quality available at all sizes except 3,840 x 2,160

Movie Audio


Built-in microphone, stereo
External stereo microphone (optional - sold separately)
Microphone sensitivity can be adjusted

Monitor Size




3.2 in. diagonal

Monitor Resolution




2,359,000 Dots

Monitor Type




TFT touch-sensitive LCD with 170° viewing angle

Monitor Angle of View




170 -degree wide-viewing angle

Monitor Adjustments




Brightness, 5 levels

Virtual Horizon Camera Indicator


Yes
Also visible in LiveView Modes
Also visible in Viewfinder

Playback Functions


Auto Image Rotation
Full-Frame and Thumbnail (4, 9, or 72 images or calendar)
GPS data display
Highlights
Image Rating
Image Rotation
Image Slideshow
IPTC information embedding and display
Movie Playback
Movie Slideshow
Photo information
Playback with Zoom

In-Camera Image Editing


Colour Balance
D-Lighting
Distortion Control
Edit Movie
Filter Effects
Image Overlay
Monochrome
NEF (RAW) Processing
Perspective Control
Red-Eye Correction
Resize
Side-by-Side Comparison
Straighten
Trim

Image Comment




Yes

Interface


10-pin remote Terminal
HDMI Output: Type C mini-pin HDMI connector
Headphone Connector
NTSC
Stereo Microphone Input 3.5mm
SuperSpeed USB (USB 3.0 Micro-B connector); connection to built-in USB port is recommended

Wi-Fi Functionality




Built-in Wi-Fi with NFC and Bluetooth

Bluetooth




Yes

GPS




GP-1A GPS unit (optional - sold separately)

Save/Load Camera settings




Yes

Total Custom Settings




52

My Menu




Yes with customization

Recent Settings




Yes

Supported Languages


Arabic
Bengali
Brazilian Portuguese
Bulgarian
Chinese (Simplified and Traditional)
Czech
Danish
Dutch
English
Finnish
French
German
Greek
Hindi
Hungarian
Indonesian
Italian
Japanese
Korean
Marathi
Norwegian
Persian
Polish
Portuguese
Romanian
Russian
Serbian
Spanish
Swedish
Tamil
Telugu
Thai
Turkish
Ukrainian
Vietnamese

Date, Time and Daylight Savings Time Settings




Yes

World Time Setting




Yes

Battery / Batteries


EN-EL15 Lithium-ion Battery
Optional MB-D17 multi-power battery pack with one rechargeable Nikon EN-EL18a or EN-EL18 Li-ion battery (available separately), one rechargeable Nikon EN-EL15 Li-ion battery, or eight AA alkaline, Ni-MH, or lithium batteries. A BL-5 battery-chamber cover is required when using EN-EL18a or EN-EL18 batteries.

Battery Life (shots per charge)




1,240 shots (CIPA)

AC Adapter




EH-5b AC Adapter; requires EP-5B Power Connector (sold separately)

Battery Charger




MH-25a Quick Charger

Tripod Socket




0.64 cm

Approx. Dimensions (Width x Height x Depth)




147 mm x







115 mm x







81 mm

Approx. Weight




760 g


camera body only

Operating Environment


0–40 °C
Less than 85% (no condensation)